As a business owner, I set quarterly goals for my brand to elevate and grow. As of October 16, 2021, I accomplished one of these goals earlier than expected!
Allow me to introduce myself...
I am Angel, the owner and creator of Angel's Organics: Hair and Skin Care. In addition to being an entrepreneur, I am a senior in college!
The Build Up
As a vendor, I attended many pop up shops in the D.C-Maryland area, as well as Greensboro. After attending my last event on July 25 in Capitol Heights, Maryland. I started to plan my idea of a pop up shop as a host. But wait...a few thoughts coursed through my head.
'Have I done this before? Who will attend? Where will it be? How will I make it successful?'
In order to host any event, one needs multiple things:
Location

Participants
Date
Time
Availability
Food
I took note of how other pop up shops I've attended operated and they included three common things: music, lots of people, a spacious venue, and something to eat! Below is one of our displays from our most profitable pop up shop experience in December 2020.
On July 25, I made my first steps towards hosting this event: looking for a space and setting a budget.
I searched many sites on the 

interwebs

 and emailed many locations in the Greensboro area for their rates. The first place I found was the 
Momentum Venue
 on Peerspace. Peerspace is a free website that anyone can use to search for local spaces for various events. It's similar to AirBnB, where anyone can post their space for rent with the option of picking the date, time, and processing payment. 
I took a mental note about the venue I had found, and continued looking at others.
The second step I took was creating the payment method & application form for the vendors. Although I did not have the place booked yet, I wanted to make sure that the process for registration was seamless and easy to keep track of. I noticed that many hosts took vendor applications via social media and cash app. I immediately understood that this would not work for me for two reasons:
How was I going to know which vendor is which?
What if the payments are not easy to keep track of because the name does not match the profile?
The solutions to this dilemma were Square and my website!
I use Square to process in person transactions at various pop up shops and learned quickly how to create a payment link through the app. Additionally, I used my website's app: 

Globo

 Form Builder, to create the perfect vendor application. This vendor application allowed me to collect names, phone numbers, emails, social medias, and logos from the applicants. Also, allowed me to create a vendor agreement that applicants would have to accept to take part.
After completing the vendor application form and payment method, I used 

Shopify's

 page builder to import the form and coded in the link from Square. It was super simple and easy!
Promotion Time + Finding Vendors:
Finding vendors was very challenging! I used three methods of marketing: 
direct contact, in person flyers, and word of mouth. Throughout the months of August and September, I contacted various business owners in the North Carolina region via Instagram and emails. While many were not available, I discovered so many new businesses I would not have otherwise. During the week, I would post and print out my flyer around campus in between campus. Gathering vendors were a key factor in whether or not the pop up shop would happen due to venue fees. If I did not raise enough money, the pop up shop would not be able to happen. I fret letting myself and the other business owners down. For some of the brands, it was their first pop up shop ever! I had to remain steadfast and hopeful! As time continued and more businesses registered for the event, the funds trickled in. The registered businesses spread the word about their participation in the event, which brought more traction.
The Big Day!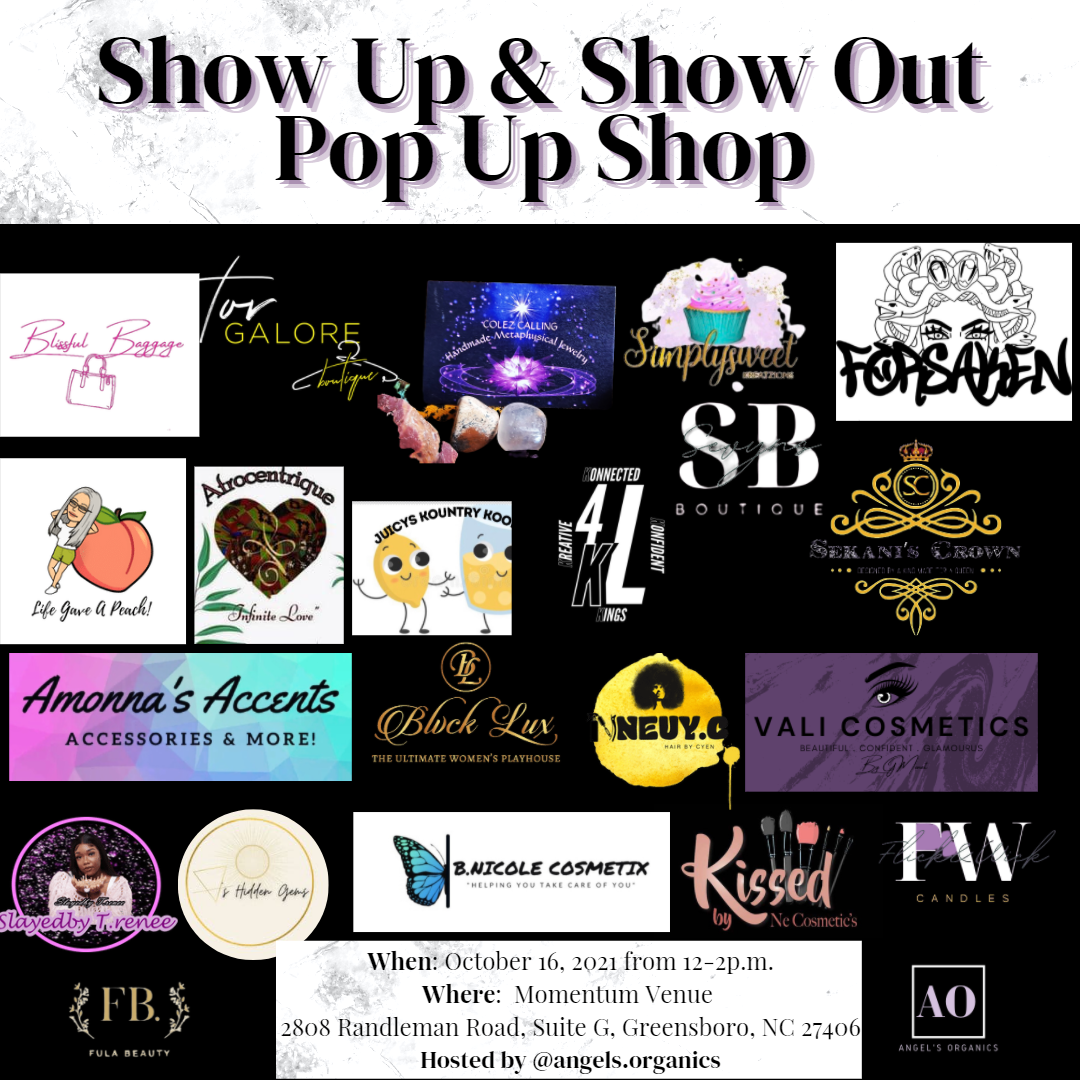 October 16, 2021, the day was finally here and I was very excited and nervous. It was my first time hosting an event, and had the daring challenge of running the event solo! I woke up bright and early that day to prepare for the event, catching a ride to the place to allow for set up.
At the door, a few of the businesses joined me while we waited for the owner to unlock the venue. Once the venue was unlocked, I allowed the vendors to set up while I picked up the catered food! Since the food pickup wasn't far, I caught another uber to retrieve the food, plates, and waters. Unfortunately, the uber driver left without me completing the food pick up. However, I was grateful to have more time to get what's needed. Once I finished checking out, I called another uber to the venue. 
I arrived to a packed venue! There were so many people bustling around searching for tables to grab and their set up materials. It truly felt amazing to bring so many people together. I set up the speaker in order for me to play some music while everyone set up their tables.  After the initial hustle and bustle of setting up the event, customers started to come in and everyone started interacting with one another. I learned a lot through this experience and I am very happy that my dream came to fruition so well. View the video link below to see how the event went!